Phytograph




The RHS garden, Harlow Carr. 11.07.13




An early start sent us whizzing up the M1 to the RHS garden at Harlow Carr. The garden has some marvellous sweeping lawns leading from the strange encampment of chalets that serve as an entrance. It was founded by the Northern Horticultural Society as a garden for the members and so it is a rare example of a grand garden built without the convenience of a grand house.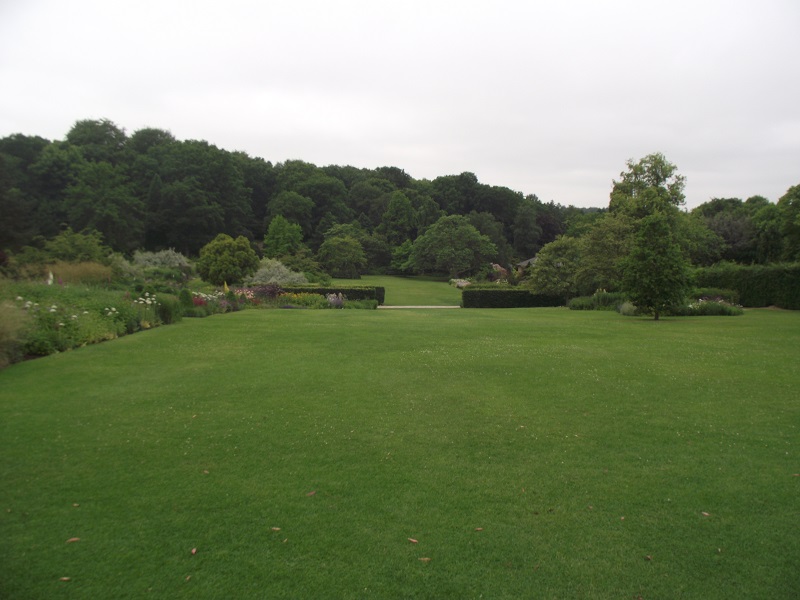 I have not visited for two years and at first sight little had changed, but closer examination revealed that some profound but subtle alterations had occurred. The garden is undergoing a sort of 'Wisleyfication'. Although it is a little frightening to see fragments of Surrey at these latitudes the garden does look better for the dotting of i's and crossing of t's that has gone on.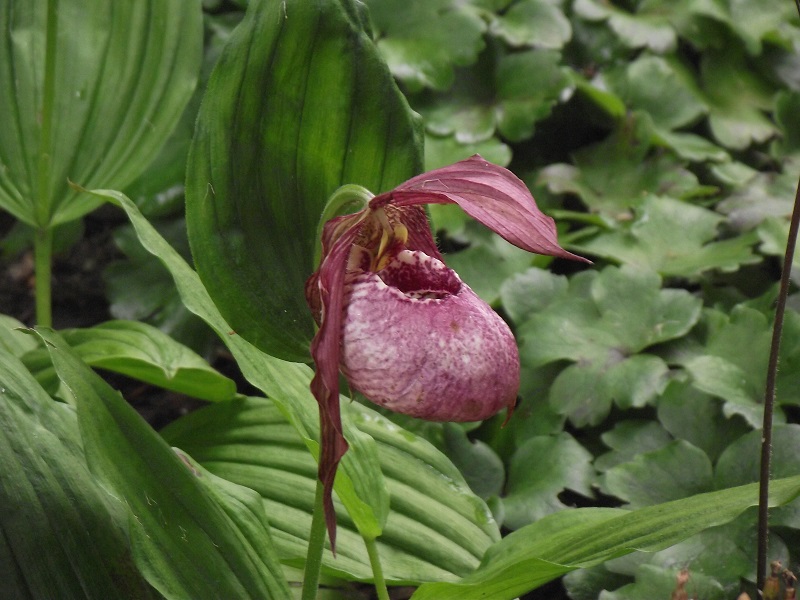 Thoughts that the garden might lose something of its distinctive northern charm were dispelled by the Cypripedium in flower on a shady bank. This one was rather disarmingly labelled "Pink" which perhaps indicates that the genus is becoming more mainstream. Gloria and I appeared to be the only people paying them any heed.
The Alpine house is one of the great set pieces of the garden. It grows a range of plants that I rarely get to see as a southerner. We arrived early on a cold and overcast day. It was a relief to have somewhere to shelter while the cloud cleared.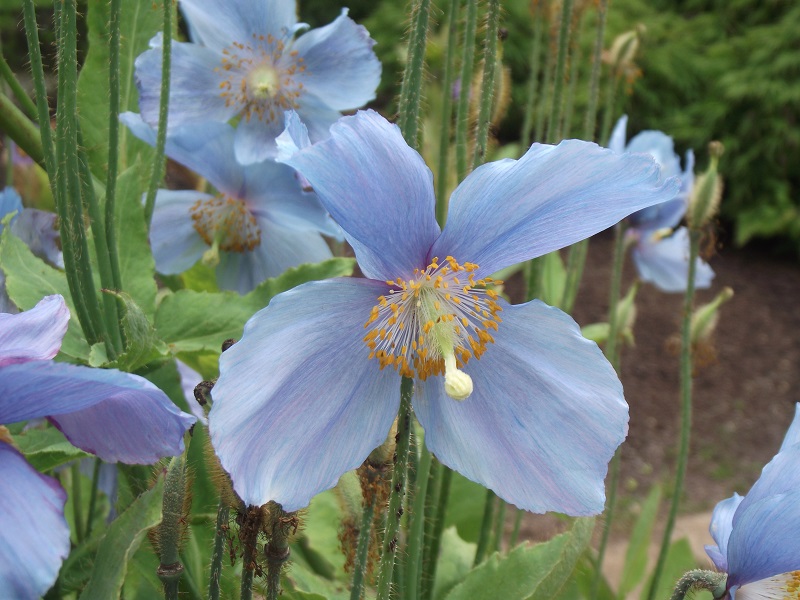 It has always been said that Meconopsis perform better in the cooler northern gardens. When the recent trial at Wisley ended the plants were sent north to see how they compare in more favourable conditions. They had almost come to the end of their flowering for this year but M. 'P.C.Abildgaard' still had something to show. It is one of the Infertile Blue Group, propagated by occasional division.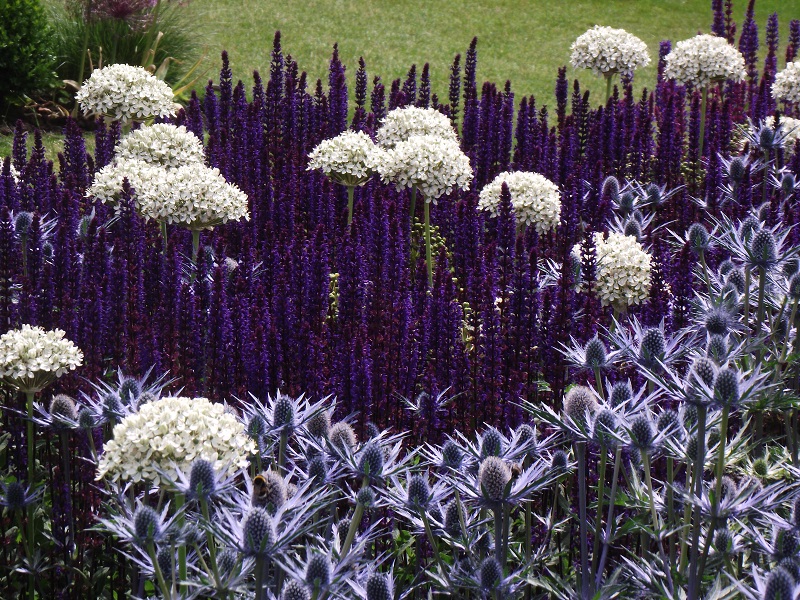 The great herbaceous border runs down the slope to the stream. It manages to give a sensational display through the summer. After a cold spring it is just getting going. This combination of Salvia x superba 'Caradonna' and Eryngium x zabelii impressed me last time we visited and now it has been augmented with Allium nigrum which has added interest.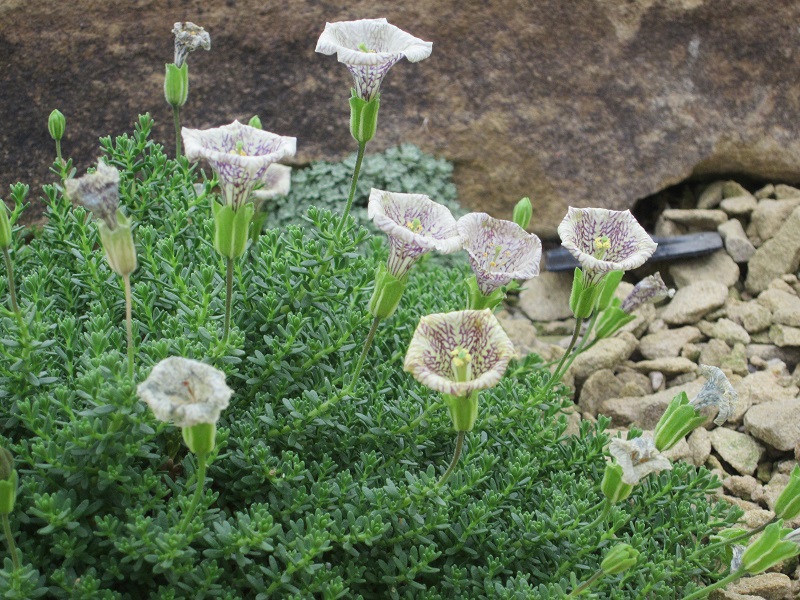 I was astonished by Petunia patagonica. It has been shy to flower in cultivation. People talk in respectful tones about a clone that flowered once. We saw it yesterday in Cambridge, where it had flowered earlier but we had missed it. I begged Gloria to take a picture of the dead flowers as a record but she informed me that if I wanted dead flowers she could recommend a jobbing gardener. Here it is in perfect bloom a few miles north and Gloria was happy to record it.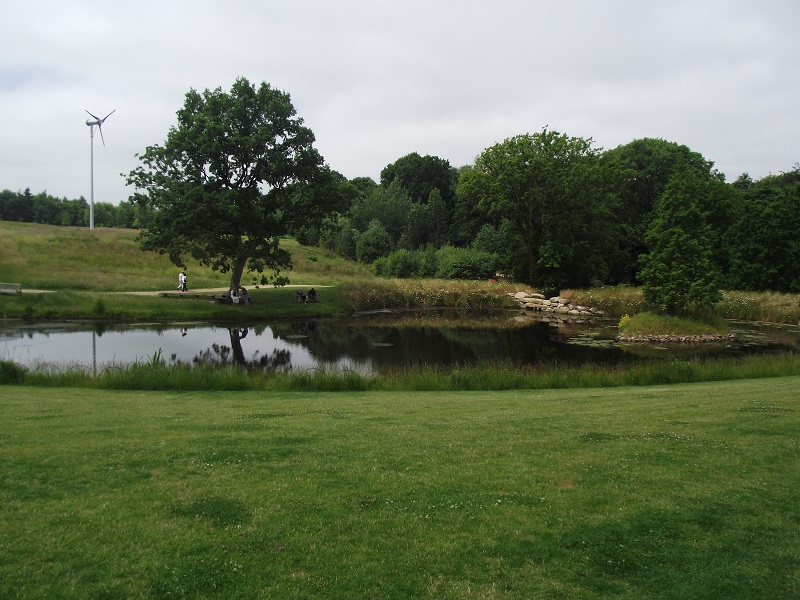 The major physical change since our last visit was the new lake which adds an interesting feature to the southern end of the garden. It replaces part of the 'gardens in time' display, and those who have visited the strange historical gardens might feel that the lake could have been a little larger. A more subtle change has been the removal of the hedgerow and opening of the vista into the meadow beyond which has improved the atmosphere of this end of the garden no end. The woodland walk that leads to this point is being taken in hand and the whole garden feels as though it has started to move forward after a few years searching for a direction. Let us hope that it doesn't wander too far south with its new found enthusiasm.



If you have any comments you can e-mail us:

daphne@phytograph.co.uk.