Westonbirt Arboretum. 24.11.13



We were hoping for a wonderful sunny day for our trip to Westonbirt, but it wasn't to be. Even Gloria was feeling the chill which is unusual. Construction of the new car park and welcome centre are well underway and it will no doubt be a great improvement. The current arrangement can get a little crowded at busy times but it does allow one to park within a very short walk of the tea shop which is important if one has travelled for any length of time with a short, cold, grumpy person.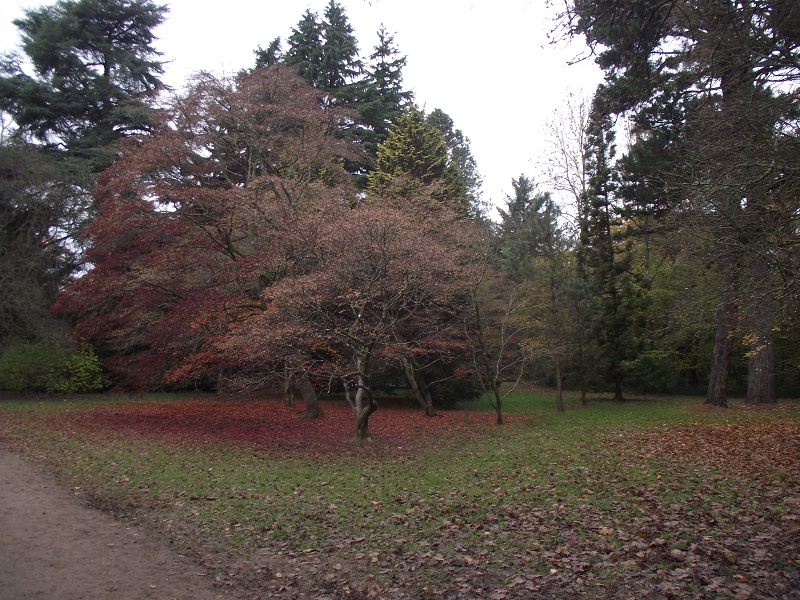 We arrived amid the last scattering of autumn colour, pools of leafy pigment under the canopies of bare trees. We had hoped to be here a week earlier but circumstances intervened as they often do. Visiting trees doesn't seem to have the sense of urgency about it that visiting relatives has though they will both be here next week and the relatives are unlikely (for the most part) to be naked.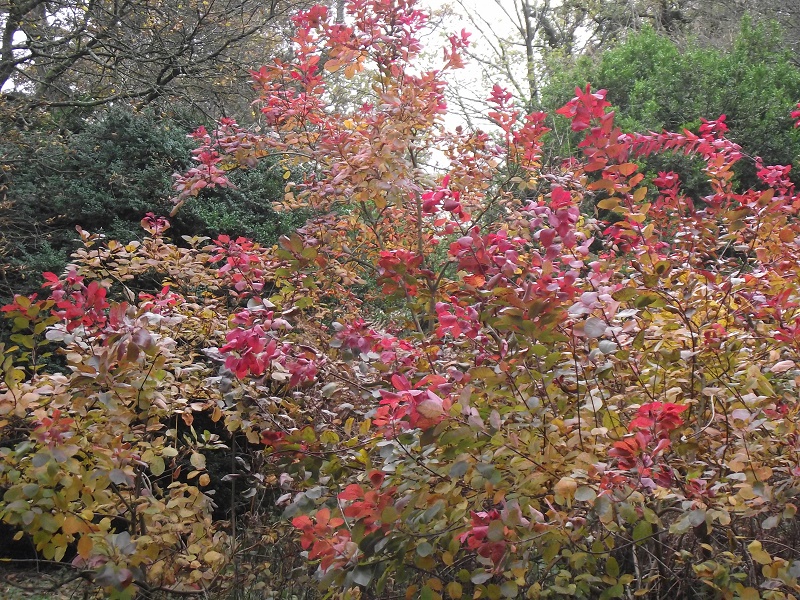 A weeks delay has allowed the later autumn colour to shine. Cotinus 'Grace' is an unfortunate name for the least elegant of the genus though she is a marvellous thing. The foliage is bold and lush. The stems stagger rather drunkenly from the main branches and rest in strangely uncomfortable positions, but we both like her. When I was younger I do not doubt that I was occasionally "graceful" as well. I grew out of it, 'Grace' does not.
In full sun she can glow with burning passion in the autumn but it is too cold today for any of that nonsense.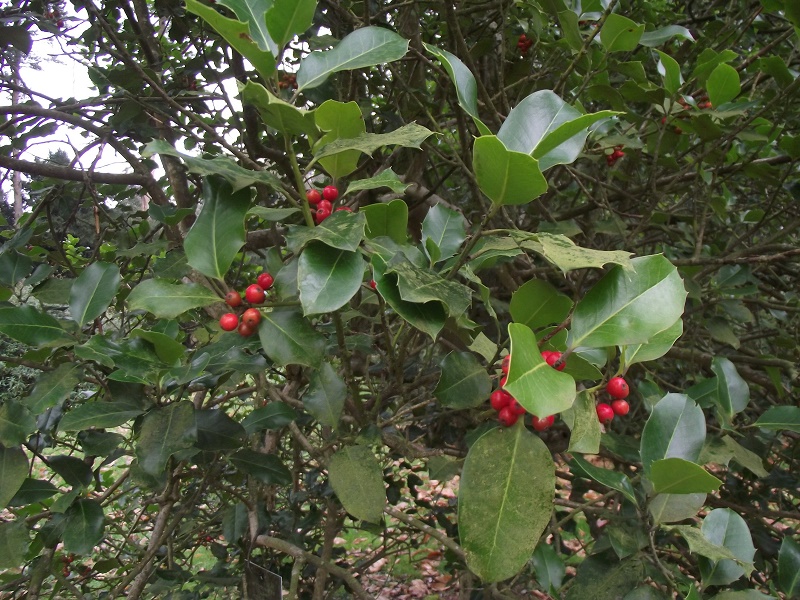 The birds don't seem to have discovered the holly berries yet. In my own garden they have stripped the lot, a task usually reserved for the florist in the village, who has them for Christmas decorations. He will be frustrated this year but I have the feeling he is used to it.
This is Ilex x altaclarensis 'W.J.Bean' still thriving and reminding us of a well thumbed old friend. I understand that my mother knew the man in some capacity, unfortunately I am only familiar with the book.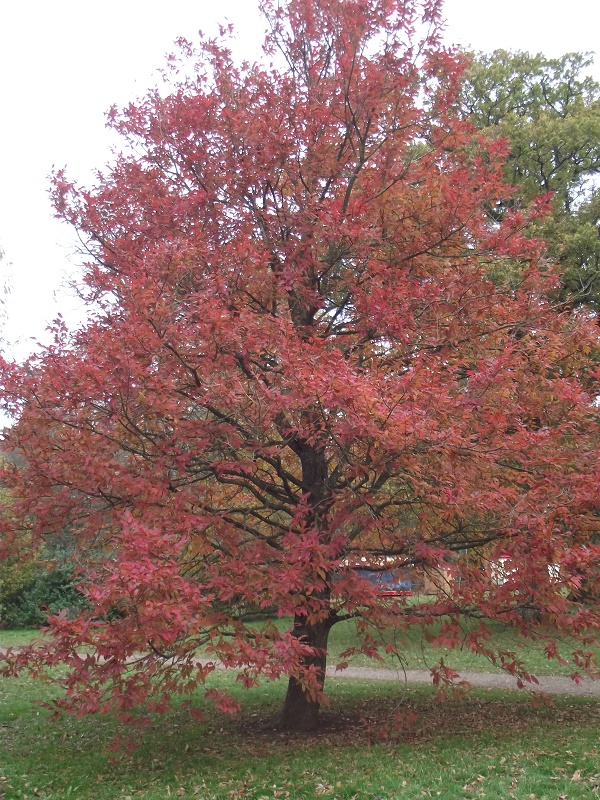 A late visit introduces us to some surprises. I know Nothofagus alpina as a dark and slightly intimidating tree in summer and as a bare pyramid of grey twigs in winter but this is the first time I have witnessed the transitional stage. On the south side it had develped this beatiful burnished copper. Gloria went rummaging around the back, as she does so often, and says that it was rather duller from behind. One to site with care and perhaps a lesson to content oneself with first impressions.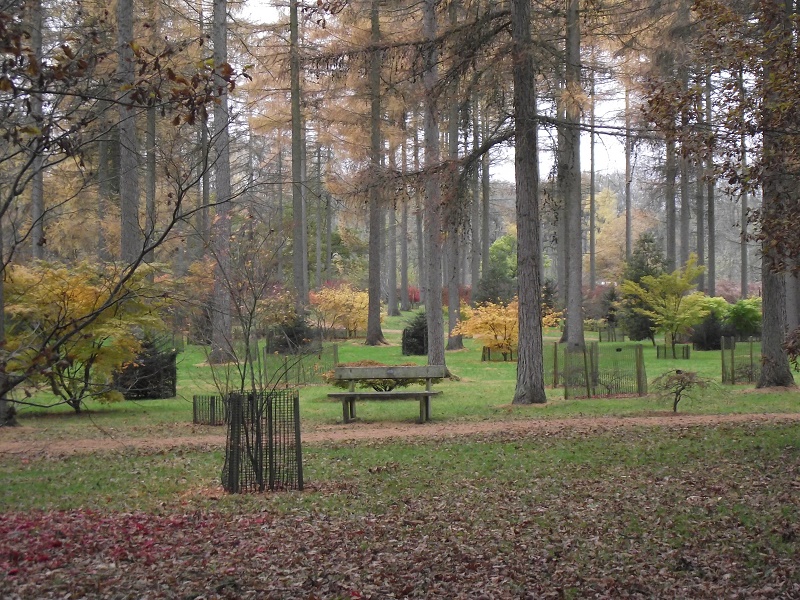 The glade of Acer palmatum was planted nearly a decade ago under these old Larch. The young trees have grown well and in another decade they will be tall enough to match the scale of the place. It is very beautiful now, and will only get better.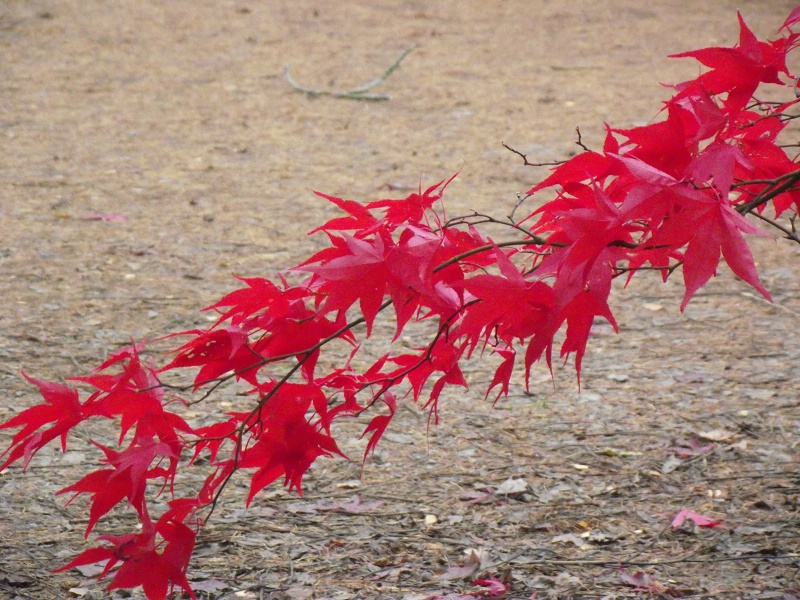 We were too late for the best of the scarlet Acers, but a few startling branches remained on A.palmatum 'Mon Zukuski'. This is the perfect way to enjoy Acers. Well away from everything else. It is difficult to accomodate small shrubs that suddenly become alarmingly red in the autumn and on a grand stage like this it is possible to plant exuberantly and make full use of the occasional beam of autumn sunshine.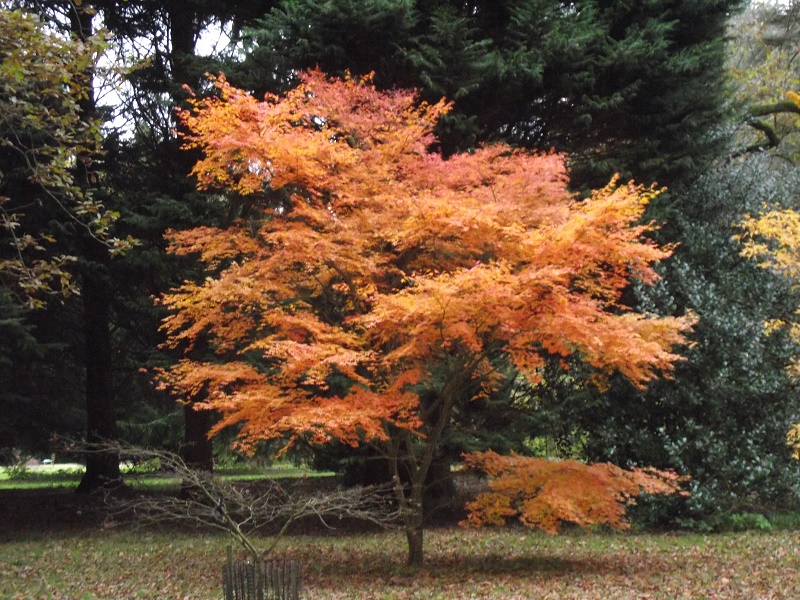 We had a wonderful time, though as Gloria noted it was a "double cuppa" (one at the beginning and one at the end). Shortly the arboretum will slip into the quietness of winter, populated only by dog-walkers and hungry blackbirds. This last beacon of Acer palmatum 'Tennyo No Hoshi' is a final shadow of the summer garden. There are snowdrop noses showing and my gardener has filled the small greenhouse with polyanthus, the smell of London street markets from my youth. Spring will soon be upon us.