Valley Gardens, Windsor Great Park. 20.02.14



So here we are in the Valley Gardens. We have been in Norfolk for a few weeks looking after a friends house while they winter in Monaco. Had we known how beastly the weather would be, we might have declined the invitation. We survived without flooding and are happy to return the house to its owner. He can take on the worry from here. He won't. I have known him for years, he will go away again.
Whatever the outcome, we are pleased to be back in the home counties if not yet entirely home.
We have visited the Valley Gardens to see if spring had arrived, and if any of you are a bit short of time, the brief answer is that it hasn't.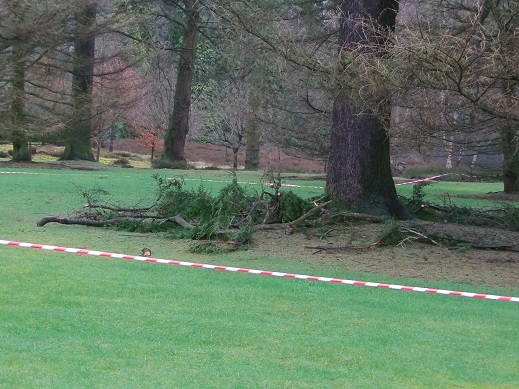 It is clear that the winds have rattled the trees here. There are many piles of fallen branches, all surrounded by fences of hazard tape. I would have thought that once they had hit the ground the hazard had passed but I understand that in the world of administration logic is superfluous. I have mixed feelings about fallen branches. It seems to me that a good shake in the night makes everybody slightly safer the next day.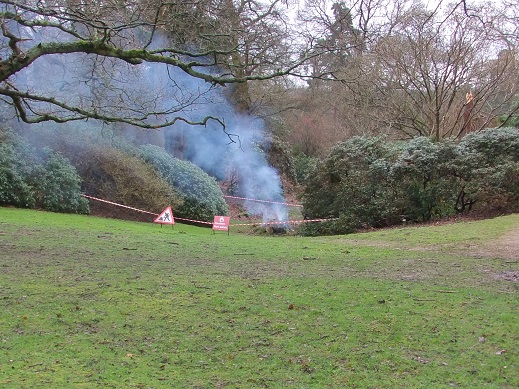 It is good to see that the process of clearing up has started, and follows a simple and ancient tradition. Naturally the bonfire was surrounded with hazard tape (someone somewhere is clearly getting a good discount). It also introduced me to a warning sign I have never seen in a garden before. "Caution, hot ashes". I would have thought that the flames were sufficient deterrent in themselves. Perhaps the sign "do not place hand in fire" was already in use elsewhere.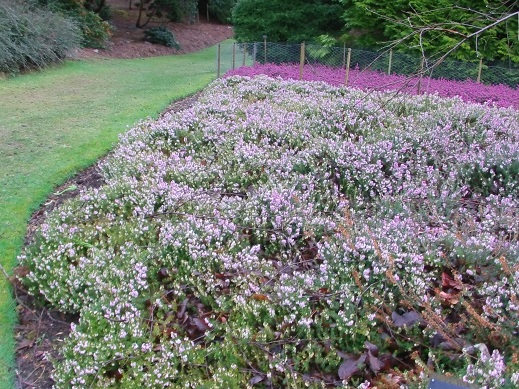 The Great Park is wrapped in sombre conifers (and their fragments) like a wood fit for wolves and it seems that this is where winter has been hiding for the last few months. Against our usual inclination, we proceeded directly to the top of the hill and the Heather Garden. If a Heather Garden doesn't sparkle in the depths of winter, what is the use of it? The question is not entirely rhetorical.
This is Erica carnea 'Pink Spangles'. This is a Heather Garden that is beyond criticism. It is a bit like mathematics. If you can't see the problems for yourself, there is little point explaining them to you.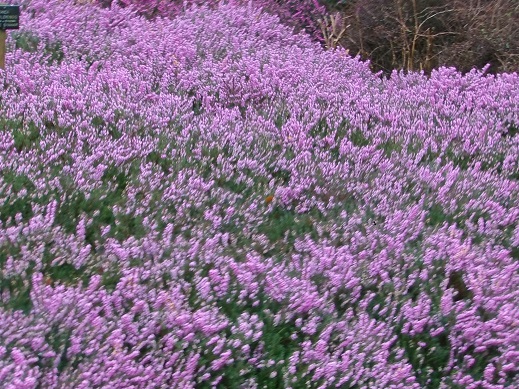 I think I have probably said as much as needs saying about heathers. Erica x darleyensis 'Archie Graham' provides some colour from a piece of ground that could more usefully be growing cabbages or weeds.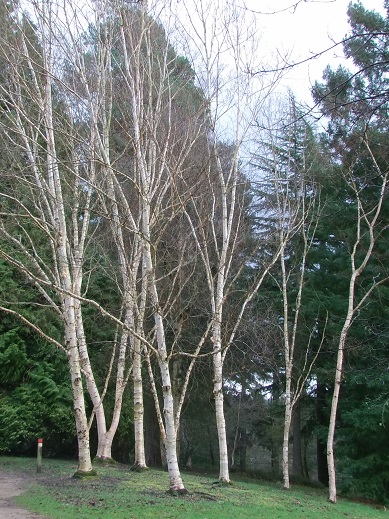 Stripped of all other interest, the trunks of Betula ermanii are admirable, striking, sculptural and reliable. When they were planted this theme of clustered white trunks among the dark evergreens had still not been worked to death.
Clearly, I am old and grumpy (though when we arrived I was only the former). I feel that my brio has been sucked out by the atmosphere. The tree huggers will disagree but a few skinny pallid birch trees are not going to impress a woman who has Gloria as a companion.
We have had a trying time, and sometimes it spills out.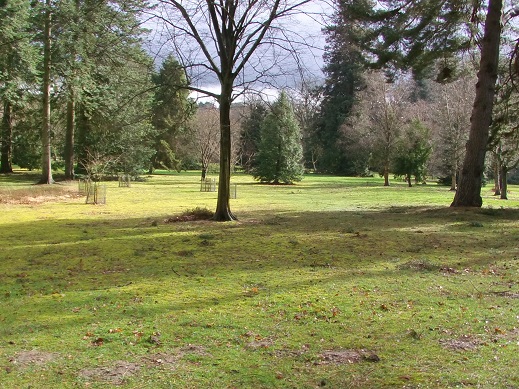 When it finally emerges, the sun is apologetic, and so am I. This is a charming parkland. In the world of conifers, timber and names abound. Value is rather scarcer.
When I was a young girl a charming (if slightly rogueish) gentleman told me that anything was valuable if you had enough of it. If he was right, then the problem here is that the gardens are simply not big enough.